AP Encumbrance Certificate EC search Online, Check Online application status for land Revenue records, Bhoomi Encumbrance statement. Download Free Encumbrance Certificate from registration.ap.gov.in
Encumbrance Certificate – AP EC Document detailed information:
Encumbrance means the registration records of a land or bhumi or a property as per Sub Register office records. It has the complete transaction details of land ownership transfers, Current owner details and the status of ownership. To say it was one of the official land documents which proves the authenticity of a property existence in government records. Encumbrance Certificate statement will include every transaction of Sales, Ownership transfer, GPA registration, Gift deed and Bank mortgages etc.
Steps to apply AP Encumbrance Certificate in Online:
Before applying the Encumbrance certificate one must have the land document details or the Property details. You can download the Online application manual at SRO in given link.
First go to registration.ap.gov.in website and choose Encumbrance EC search option. A page with terms and conditions will appear. Read carefully and select submit button.
AP encumbrance Certificate statement can be searched with three options. First is Document number, Second is Memo Number and finally with Property details.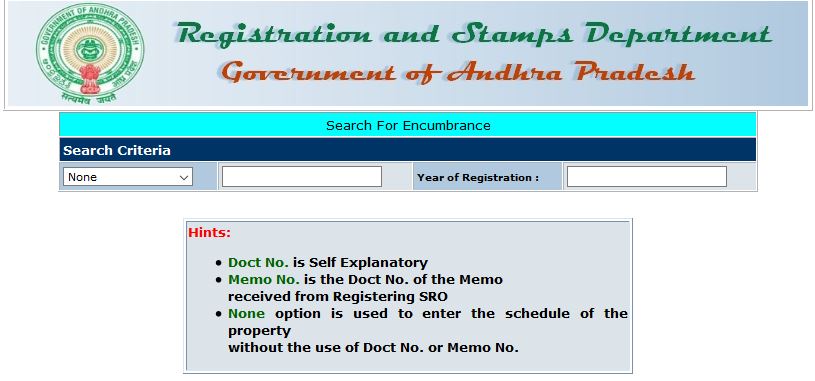 Search AP IGRS EC with Document registration Number in online:
In the EC search page, Select first option. Give the document number and Select the SRO district from the menu. You need to give the year of registration as well.
Now go to Captacha verification and code and enter the shown item. Finally select Submit Button. Your AP EC encumbrance certificate will be displayed.
Search AP Encumbrance Certificate with Document Memo Number:
You can follow the above steps for searching the EC with Document Memo Number.
How to search AP Encumbrance Certificate with Property Details in Online:
Choose None option first. Now a form with all property related details will be displayed.
Choose the SRO district name. Give applicant name for Encumbrance Certificate application.
Give the building structure details like Door Number or Flat number. If you are looking for Agriculture land you need to enter survey number, Plot number etc.
If you have the registration document in hand you may enter the boundaries of the property you are looking for. Enter North, East, West and South Boundaries same as in Document.
Give the SRO location details and the EC statement date of period. Finally solve the captcha verification code, select submit button. You will get the EC status if all the details entered are valid.
In any case if the details are not shown, go to the nearest SRO for more information.
Search EC online at registration.ap.gov.in website